What is mobile marketing? what are the benefits of mobile marketing?
According to Wikipedia Mobile marketing is multi-channel online marketing method focused at reaching a particular audience on their smartphones.
More simply, it is a method of reaching out to mobile phone users and mobile phone as a marketing platform.
Mobile phones are leading the platforms of searches.
Around 80%-85% searches on the internet are done on mobile phones.
The insane growth of the smartphone user has changed the face of traditional marketing.
Not only the growth of smartphones but also the growth of social media platforms, applications, websites, E-mail, SMS & MMS could be beneficial marketers like you.
It has changed the view of business & marketing aspects, as well as created a new wave of mobile marketing.
If you're looking for the benefits of mobile marketing before creating your own mobile marketing campaign, this blog post is for you.
Benefits of Mobile Marketing
The vast userbase of smartphones
"Big audience is a big advantage"
According to statista.com, around 2.71 billion people using smartphones in 2019.
This is a huge number and this also could be a huge opportunity for mobile marketers.
We always carry our smartphones with us.
Nowadays, most people use their mobile phone or smartphone for checking emails, using social media or browsing.
They spent more time on a mobile phone than any other device.
which gives marketers an advantage to advertise their product and services through mobile marketing.
For the big audience advantage, it helps marketers to reach a far wider and diverse audience & track customer behavior.
Easy to Engage with Audience
Mobile phones are a pretty addicting device,
we spent our lot of time on the smartphone during a day.
Studies show that people check their phones 34 times a day on average. (source: Godwin)
There is a great chance of mobile phone users to receive a text message at the very moment is sent.
It can give you an opportunity to connect with your audience more easily and instantly.
However, this benefit of mobile marketing is beyond only engagement
you can also analyze your customer behavior through mobile marketing.
This can help you to gain more data or information about what your customers like and what they don't.
Low-Cost Advertisements
Creating advertisements for a mobile device is less expensive than creating advertisements for TV or PC.
Because of its simple layout and less complex system mobile phones allows you to create low-cost advertisements options.
Here are 5 ways of low-cost advertisements in mobile marketing
Start a blog.
Social networking (Facebook, LinkedIn).
Video marketing ( Youtube, Instagram, Facebook live).
Photo marketing ( Snapchat, Pinterest, Instagram).
Microblogging (Twitter). (source: Bigcommerce)
Starting a blog could be a great idea for mobile marketers. A lot of mobile phone users read blog posts on their mobile devices every day.
You can either market your product on your own blog or you can just pay other blog websites to advertise or promote your product.
If you don't like to sponsor the third party blog websites you can create your own now!
Here are 8 easy steps to create your own blog.
You can share awareness about your product or service in social networking platforms like Facebook, Linkedin by posting regular high-quality content.
On the other hand, you can also share digital contents like photos, videos, GIFs on various social media platforms to market your product.
This type of marketing strategies will help you to gain large audience impressions and the cherry on the cake part is it will not cost you a penny.
Viral Marketing Potential
Mobile Marketing has a huge viral potential.
Viral content spread at the speed of light.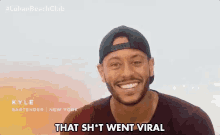 Thanks to social media platforms, for its easy shareability anything can go viral nowadays.
But what is viral content marketing?
Viral Marketing is that which is able to generate tremendous interest and the potential sale of a brand or product through a short period of time.
How can you do viral marketing?
Your product could go viral with viral advertising, viral campaigns or simply luck
The term of luck works more in creating a viral content over the internet because you never know what will blow up the public.
Here's a blog I'm suggesting you if you want to know about viral marketing.
Social Media Platform Benefits
Around 2.71 Billion people have access to different social media platforms.
And most of them use those social media platforms on their smartphone.
Therefore, you can run your mobile marketing campaigns on social media platforms such as,
Facebook ads
Sponsored Instagram post
Youtube Videos
Snapchat stories
Mobile marketing on social media is so effective,
About 90% of marketers claimed that social media generated enormous exposure for their company.
Social networks are now a substantial part of every marketing strategy,
And the benefits of using social media are so great that anyone not performing this cost-effective resource is missing out on an extraordinary marketing opportunity.
Benefits of mobile marketing on social media
It is less expensive, even some social media campaigns cost little to no money.
You can increase your product recognition using social media in a short period of time.
Social media helps to gather loyal customers.
Here are the benefits of mobile marketing, if you like the post make sure to share with your friends.
What is your favorite part of this blog? comment below!